Revolutionizing Agriculture through
Precision Agriculture Drones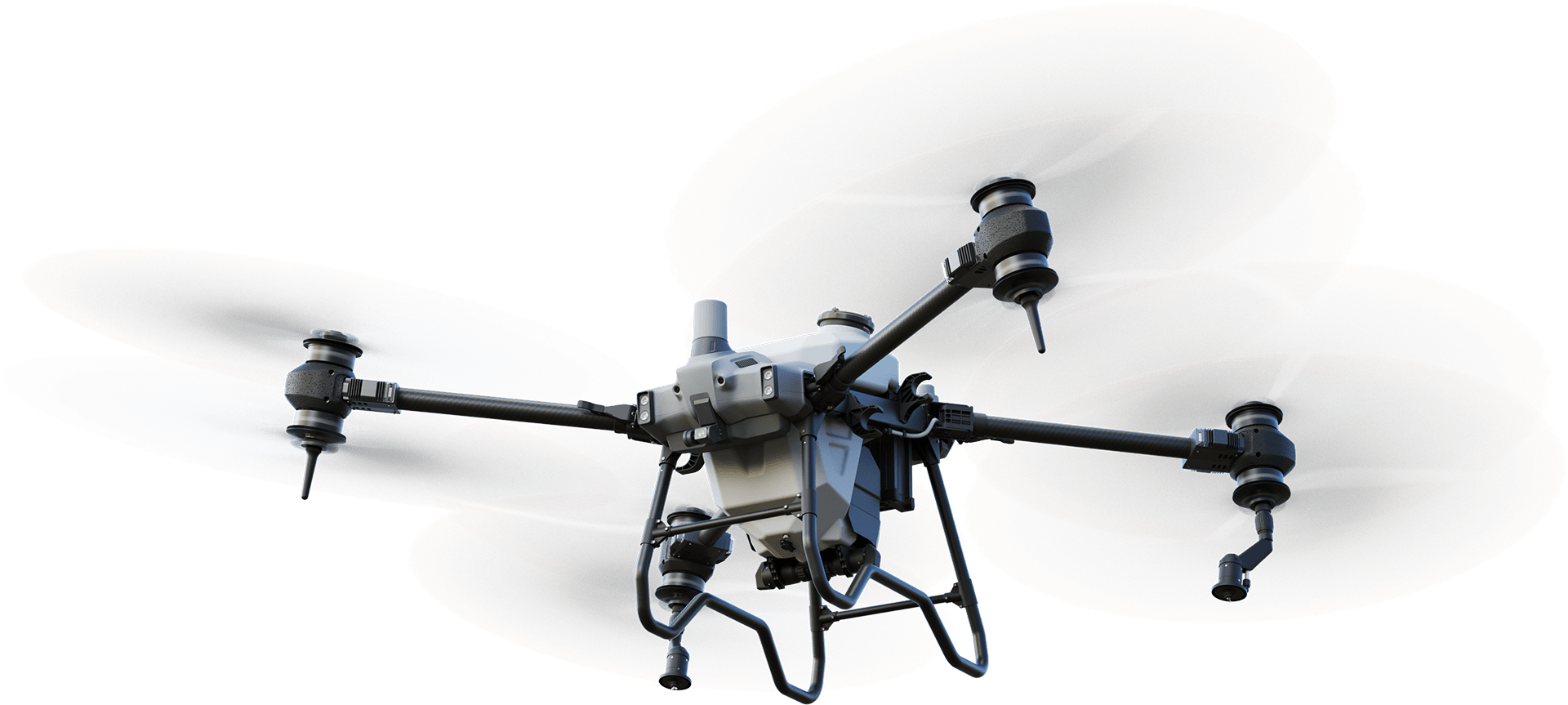 Experience the power of the DJI Agras T40, a game-changing drone designed for precision agricultural operations.
With its revolutionary Coaxial Twin Rotor design and impressive payload capacity, this drone can handle multiple tasks, from mapping and surveying to spraying and spreading. Achieve ultimate precision and efficiency in your agricultural operations with the DJI Agras T40.
Massive payload capacity: Carry up to 40 kg for spraying and 50 kg for spreading.
Active Phased Array Radar + Binocular Vision: Enjoy 360-degree obstacle sensing and intelligent terrain following.
Dual Atomized Spraying System: Achieve even spraying and prevent clogging with dual atomization technology.
Mapping, Spraying, and Spreading: Combine multiple functions in one drone, capturing real-time images and generating local maps.
Enhanced Remote Controller: Experience smoother and faster mapping with an 8-core processor and customizable physical buttons.
Robust and Reliable: Designed to withstand harsh environments, ensuring ultimate reliability.
The Coaxial Twin Rotor Advantage
With its innovative coaxial twin rotor design, the Agras T40 offers a massive payload capacity, enabling you to carry up to 40 kg for spraying and 50 kg for spreading. The foldable design enhances portability, making transporting the drone to different locations easier.
The Agras T40 seamlessly combines mapping, spraying, and spreading capabilities. Capture UHD images with the adjustable gimbal and generate local maps using the D-RTK 2 Mobile Station. The drone detects land boundaries and obstacles automatically, optimizing flight route planning.
Enhanced Remote Controller for Efficient Mapping
Equipped with an 8-core processor, the remote controller allows mapping up to 6.67 hectares in just 10 minutes. Intelligent route planning minimizes wasted journeys, maximizing efficiency. The large 7-inch high-brightness screen provides a clear and detailed view, while custom physical buttons offer flexible control options.
Ultimate Precision with DJI Agras Intelligent Cloud
Pairing the Agras T40 with the DJI Mavic 3 Enterprise Multispectral unlocks the power of variable spraying and spreading operations based on farmland prescription maps. Achieve precise application of fertilizers and nutrients, optimizing crop health while reducing environmental impact.
Unparalleled Obstacle Sensing
Experience 360-degree horizontal omnidirectional obstacle sensing with the Active Phased Array Radar and binocular vision sensor system. Detect obstacles up to 50 meters away, enabling intelligent terrain following and seamless navigation through challenging environments.
Ultra-Fast Charging and Intelligent Flight Battery
The charging station provides 1500W AC output, powering all essential components. The 30000mAh Intelligent Flight Battery features rapid air-cooled heat dissipation and a warranty coverage of 1,500 charging cycles, ensuring reliability and long-lasting performance.
Elevate your agricultural operations with the DJI Agras T40 – the ultimate precision drone for all your farming needs.
The Ideal Drone for New Farmers
Experience the future of agriculture with the DJI Agras T10. This compact and powerful drone is tailored for new drone farmers, offering exceptional performance and convenience. Covering up to 15 acres per hour with its 8-liter tank and 5-meter spray width, the Agras T10 is designed to meet the needs of farms of all sizes.
The DJI Agras T10 brings a highly compact-yet-powerful aerial solution to agriculture sites of all sizes and needs. An 8 liter tank and spray width of up to 5 meters allow the aircraft to cover up to 15 acres/hour. Its folding truss structure is sturdy and reliable, enabling efficient folding and unfolding, convenient transportation, and easy transitions.
Lightweight and Convenient
A carbon fiber composite body keeps the Agras T10 both lightweight and strong. It can also fold down by 70% for more convenient transportation. The battery and tank can be quickly attached and detached to make refilling more efficient.
Autonomous Functions for Easier Flights
The aircraft takes off with the push of a button: autonomous planning and automatic edge sweeping offer extensive spray coverage and effortless operation. The T10 also comes standard with an RTK module with centimeter-precision positioning. The new DJI Agriculture app enables a smoother system experience and more intuitive operation.
Eliminate Blind Spots with a Spherical Radar System
The spherical radar system perceives obstacles and surroundings in all environments, weather conditions, and viewing angles, regardless of dust and light interference. Automatic obstacle avoidance and adaptive flight functions help ensure safety during operation.
Dual FPV Cameras for Improved Awareness
Equipped with dual FPV cameras, the Agras T10 provides clear front and rear views and lets you check flight status without needing to turn the aircraft mid-flight. And a bright searchlight doubles the aircraft's night vision capabilities, creating more nighttime operation possibilities
Ultrabright Screen Ultimate Control
An updated remote controller supports stable image transmission from up to 5 km away, 67% more than the previous generation. A bright 5.5-inch screen delivers clear visuals, even in harsh lighting conditions. For increased productivity, one remote controller can operate multiple drones at once. The standard RTK high-precision positioning module enables centimeter-level operation planning. Additional enhancements include stronger signaling, anti-interference, and operational stability. The new DJI Agriculture app provides a smooth user experience and more intuitive operation.
Cloud-Based 3D Farming: Digital Agriculture is Here
With the Smart Agriculture Cloud Platform, users can perform cloud-based mapping of orchard and farmland scenarios to generate smart flight paths. This platform has an AI recognition system to patrol fields, identify growth, monitor disease or pests, and monitor agricultural conditions efficiently. Pairing this system with the DJI P4 Multispectral allows users to apply solutions based on specific variables according to an automatically-generated farmland prescription map.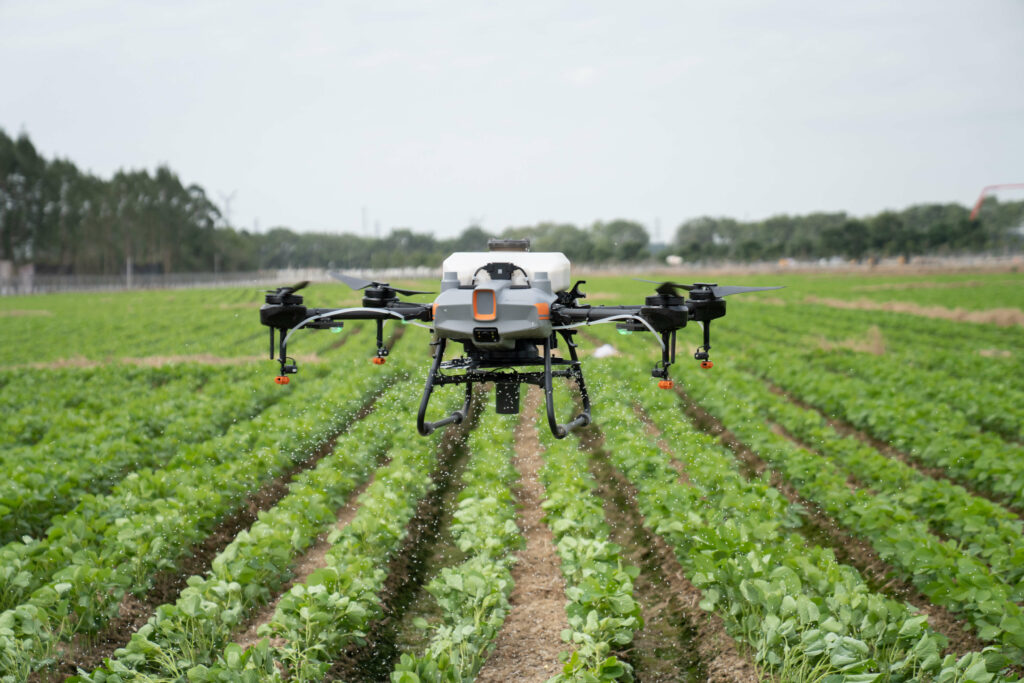 Looking to speak to a
real Ag Professional?
John Johnstone
Sales Director for Agriculture
Looking to speak to a
real Ag Professional?
John Johnstone
Sales Director for Agriculture